Holy. Flippin'. Crudballs!
Milo Fisher has found something lurking in Black Hole Lake. Something big. It's the kind of monstrous discovery that would make his ex-friend Lucy Sladan's mind explode into confetti, if he was still speaking to her, which he isn't. But Lucy won't be kept in the dark: she's on to Milo, following her own clues, and closing in on an even greater secret…
The twists, chills and laughs multiply in STICKY PINES: The Thing at Black Hole Lake, the electric second instalment in the cult sci-fi series for children!

Published in the UK by Nosy Crow
Dashe Roberts is the real deal – and this series is a cult classic in the making
Stoomio.com
Brilliantly sharp and funny
Nicola Penfold, author of Where the World Turns Wild

The moral complexity never slows the action, but it does give it real depth
Stephanie Burgis, author of The Dragon with a Chocolate Heart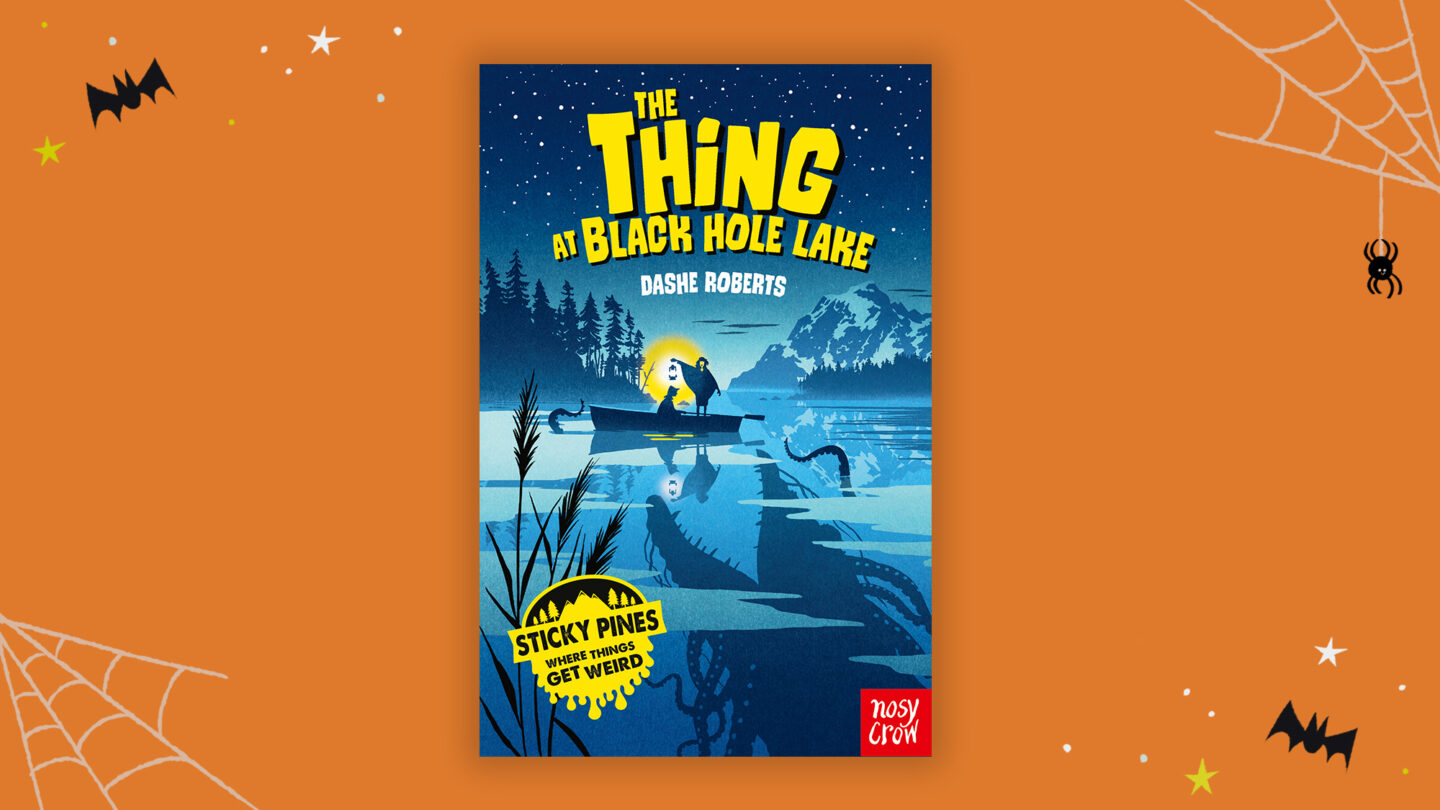 📻 Sticky Radio
Jump into the least-known corner of the New World with this fantasy soundtrack curated by Dashe. It's crodbarres a'la mode!
Play on Spotify
Dashe reads from STICKY PINES: The Thing at Black Hole Lake for Reading Zone Book Club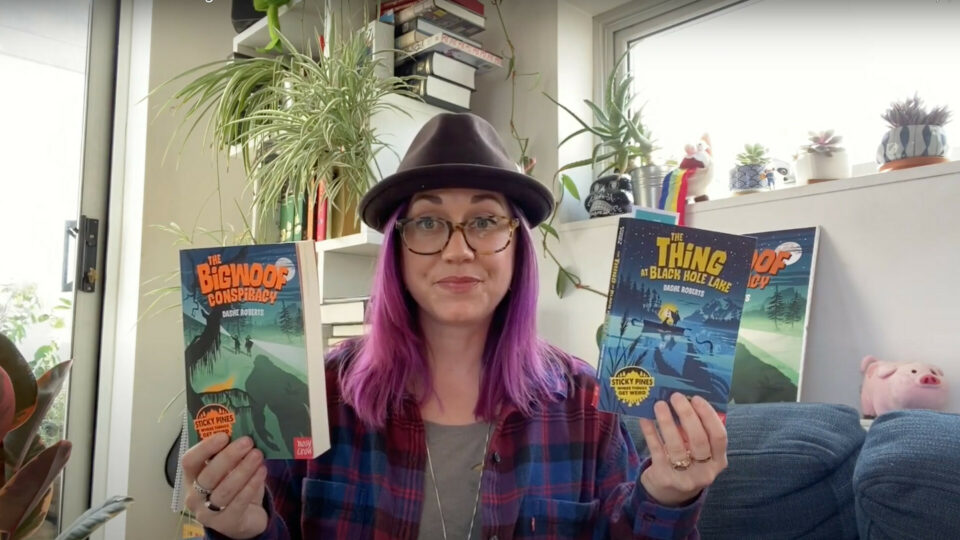 Interview with Goldsmiths, University of London on 'Science Fiction in Children's Literature'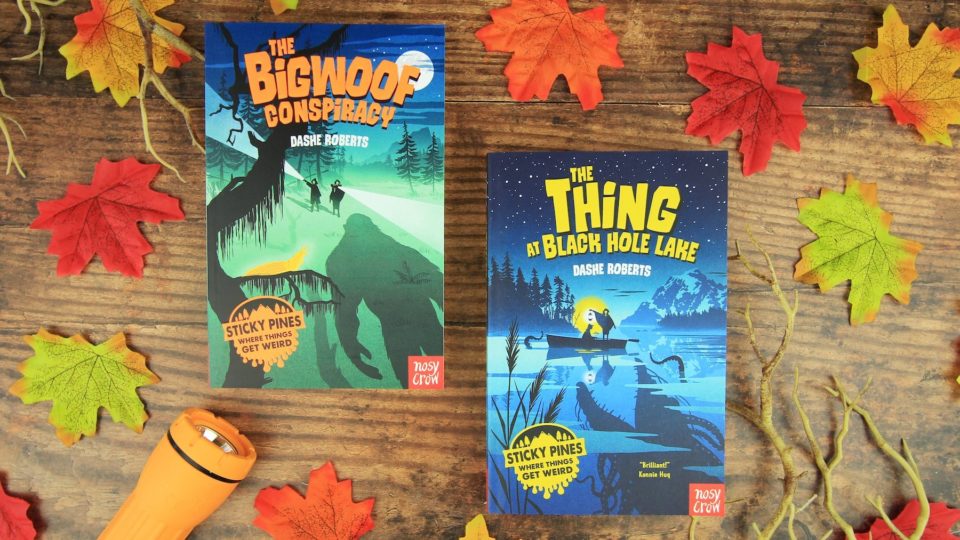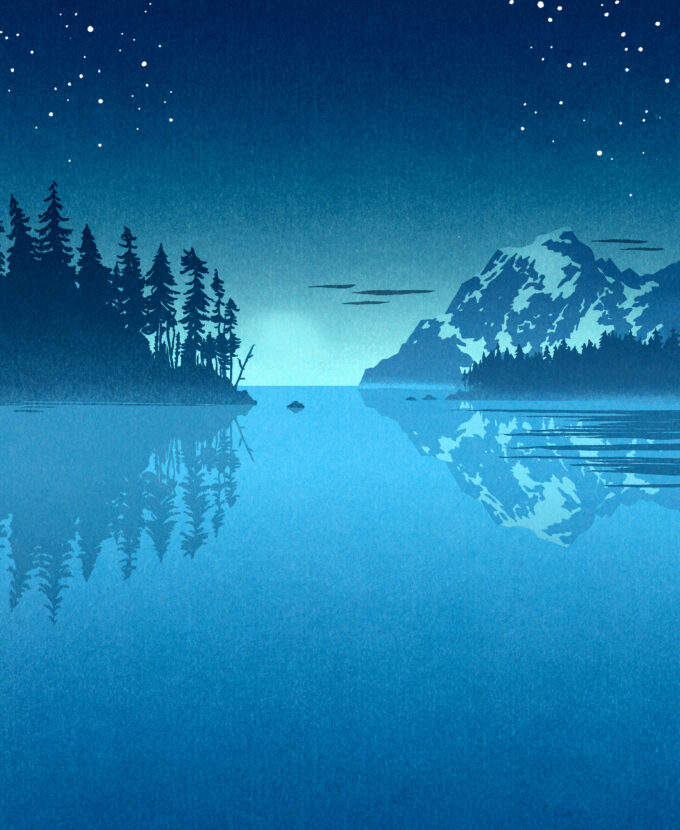 Praise
Press and blogs
A rollicking adventure full of mystery, atmospheric settings, a fantastic cast of characters and lots of monstery goo... As it expands the mythology of the series, young readers will love finding out more about the history of the town of Sticky Pines and the shapeshifting Pretenders, and will be on the edge of their seats waiting for the next instalment to arrive
This electrifying cult mystery series has caught the imagination of young sci-fi fans with its addictive blend of fast paced action, dazzling heroes and freaky fun
STICKY PINES is fast becoming that must-read series
One of the most unique and exciting children's book series in recent years
Atmospheric, spooky and full of preteen angst, STICKY PINES: The Thing at Black Hole Lake is the perfect 80s movie waiting to be filmed
Erin Lyn Hamilton, My Shelves are Full blog
This larger-than-life, spine-tingling book is bursting with originality and laugh-out-loud humour
The Breadcrumb Forest blog
With the perfect blend of witty dialogue, creepy mysteries and gripping plot twists, this sequel was everything I hoped it would be!
Emma Perry, My Book Corner blog
Authors
Cracking, witty dialogue with characters so vivid I half expected to see them standing there when I lifted my eyes from the page... Beautifully plotted and pacy, the story never loses focus and keeps you guessing all the way through
S.J Wills, author of Bite Risk (Simon & Schuster)
I fell in love with STICKY PINES and in this sequel Dashe Roberts proves she is the queen of cliffhangers... She's one of my favourite new writers: her books are funny, witty, clever and suspenseful, with an unexplained mystery vibe, and I need the next book in this series ASAP
Rashmi Sirdeshpande, author of How to Change the World (Puffin)
STICKY PINES: The Thing at Black Hole Lake doesn't miss a beat! Brilliantly sharp and funny, this is an author well and truly in her stride
Nicola Penfold, author of Where the World Turns Wild (Little Tiger)
Go for a swim with The Thing at Black Hole Lake, they said. It'll clear your mind faster than one of Jeeves' pick-me-ups, they said. Did they mention you would have laughter stitches whilst attempting your finest breaststroke underwater? They did not
Jack Meggitt-Phillips, author of The Beast and the Bethany (Egmont)
Creepy, wise-cracking and laugh out loud funny – this story has it all. Just when I thought I knew what 'The Truth' might be, Dashe Roberts takes the plot to a whole new level of brilliance and now I'm truly agog to find out what happens next
Julie Pike, author of The Last Spell Breather (Oxford University Press)
Teachers, librarians and children
Mesmerisingly brilliant fun with lots of twists and an abundance of ever-deepening mysteries, not to mention a philosophical dilemma underpinning the tale, this is a stonkingly good, enormously satisfying read
Holy crudballs, STICKY PINES: The Thing at Black Hole Lake is brilliant! I read late into the night but had to stop at the chapter entitled 'The End' because I didn't want it to end. Beautifully bonkers and utterly compelling
My class have fallen in love with the unusual trees, strange rumours and quirky inhabitants of STICKY PINES. This sequel transcends the already stellar original; nuanced and carefully crafted, each character has an effervescent personality that leaps from the page. More than this, The Thing at Black Hole Lake offers a truly beautiful, mysterious adventure for a young reader
STICKY PINES: The Thing at Black Hole Lake is just fab. It's an all round great read, involving a cast of easily relatable characters, page-turning action, and just the right amount of weirdness to top it all off
Shop Local
🛒 Hey readers! These are tough times for the indie booksellers who bring joy to our communities and pay actual taxes! Many smaller booksellers ship so please show support by ordering my books from them online. I've included some of my favourites for you here!
Have a listen
🎧 You can listen to the first chapter of STICKY PINES: The Thing at Black Hole Lake here, and purchase the audio book from these online retailers. Narrated by the marvelous Patricia Rodriguez!
Support this book by rating and reviewing online!
🖋️ These days, online recommendations are more important than ever in connecting young readers with books. If you read and loved The Thing at Black Hole Lake, please spread the word about STICKY PINES by leaving a friendly rating and note on Amazon, Waterstones or Apple Books. I read every review and am truly grateful for your support!