Boomsludge!
Lucy Sladan's investigation into the shadowy Pretenders is setting off sparks: her father's mind has been hijacked by mysterious forces, her friend Milo is being stalked by a freaky troll, and ominous rivers of sticky goo are found flowing beneath the Big Crater Valley. But nothing on this round blue Earth can stop Lucy from uncovering the shocking revelations that will turn her world upside down.

Published in the UK by Nosy Crow
A superlative love letter to the quirky and the unknown
Aisling Fowler, author of Fireborn
The ultimate autumnal series
Thrilling and mysterious with Roberts' trademark blend of pulse-pounding action, humour, and suspense
S. J. Wills, author of Bite Risk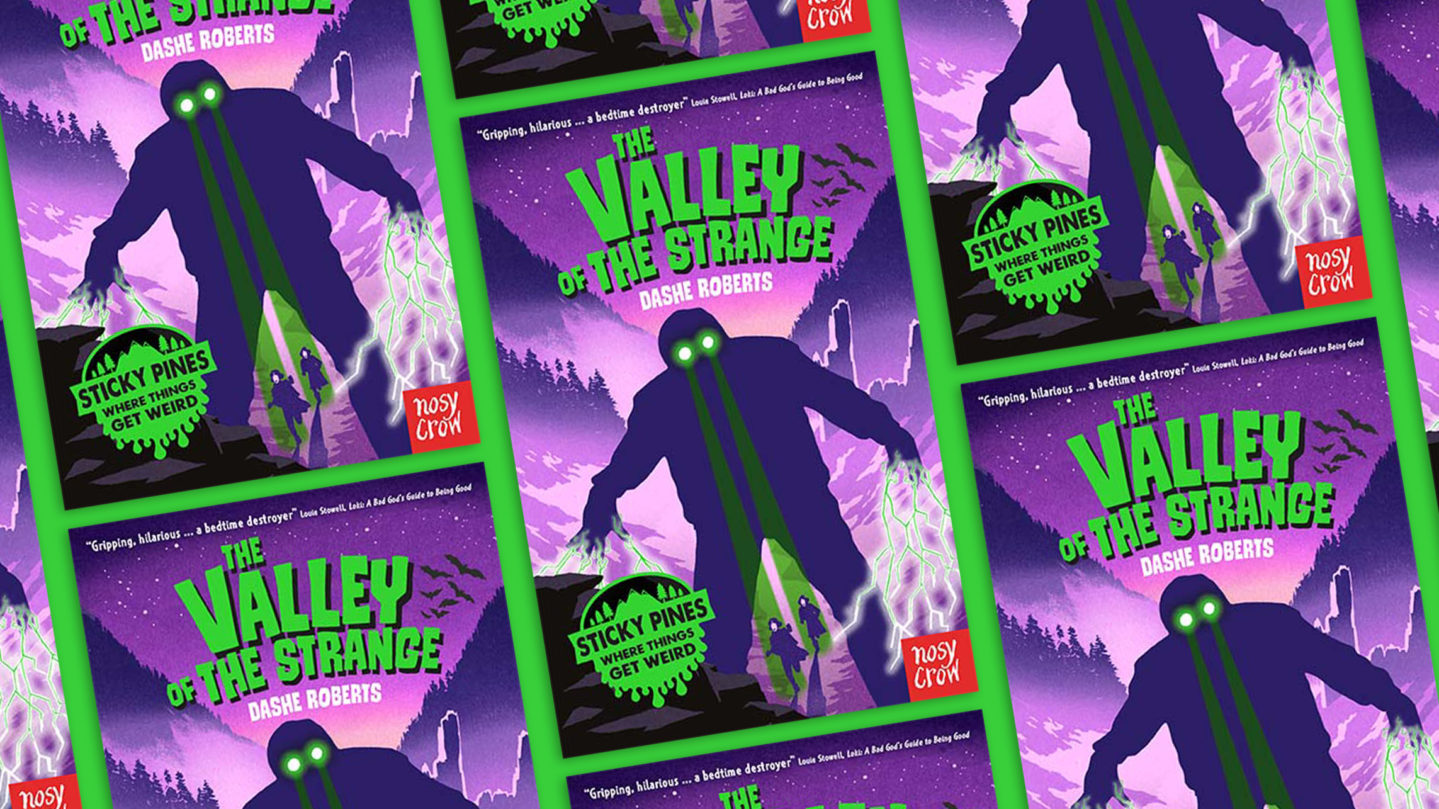 📻 Sticky Radio
Dig down and out and inside out with Dashe Roberts' freaky deaky soundtrack to STICKY PINES: The Valley of the Strange.
Play on Spotify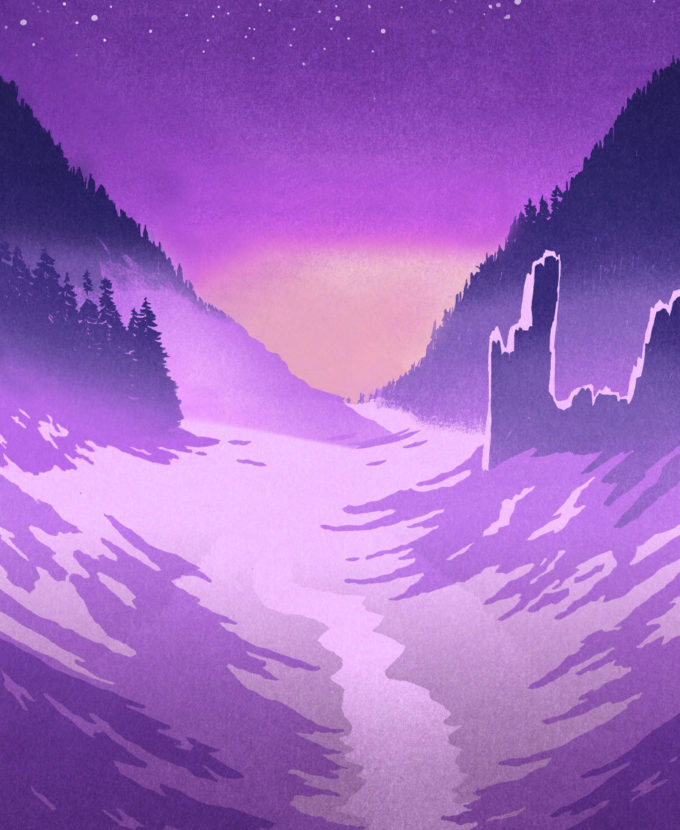 Praise
Press and blogs
The Valley of the Strange is cult sci-fi at its best: funny, creepy and full of teenagers trying to navigate life. Dashe Roberts' writing is as addictive as a tray of sugary doughnuts and you just can't help bingeing... The plot of this book and wider series is compelling and highly original, giving us a whole new take on alien life. Plus there's a whole 80s movies vibe running through the story, that is comparable to but very different to Stranger Things. If you're a fan of both then you're in for a double treat.
The Breadcrumb Forest blog
STICKY PINES is absolutely sublime... It's great to see such a sophisticated science-fiction series for children, with each book cleverly unpeeling another layer of the fictional world. Like Nucralose, it's devilishly addictive and this third adventure oozes mystery and will have you on the edge of your seat… I particularly enjoyed the idea that we don't know everything about our world and that's okay. Should we be scared of that we do not know? The power play between Lucy and Mr Fisher builds to a stunning climax and be warned, you will have to scrape your jaw off the floor after that ending!
Tom Griffiths, Check 'Em Out Books blog
The Valley of the Strange is neon-weird, sugar-sweet, and electrically funny. It's so much fun and, like the best popcorn, it's impossible not to stop devouring every page... Roberts brilliantly builds the mystery until ramping up the strangeness at the end. And, oh, how much we learn about who the Pretenders really are! The ending is explosive and electrifying, setting up a final book that promises to be epic.
STICKY PINES is the ultimate autumnal series, utterly fantastic. From mind control to shapeshifters and a whole other mystery at Black Hole Lake, there is so much happening in each of the books with Lucy and Milo caught in the middle. Lucy is firm and confident in her beliefs where Milo is stuck between seeing and believing, not to mention wanting to please his father. He loves Mr Fisher and will do anything for him, but in The Valley of the Strange Milo's convictions could have seriously bad consequences.
Erin Lyn Hamilton, My Shelves are Full blog
I love the dynamic friendships and the top notch dialogue, the fabulous humour and the spooky twists and turns. With shapeshifters, mind control, a race against time and spine-tingling revelations, The Valley of the Strange sees Dashe Robert's spellbinding series continue on a mighty high.
Emma Perry, My Book Corner blog
I love the STICKY PINES series and when I saw The Valley of the Strange had been released, I knew I needed to read it… then gobbled it in a matter of hours. Packed with intrigue and fun, this book is perfect for young sci-fi lovers.
Steph Elliot, A Little But a Lot blog
Authors
Thrilling and mysterious, The Valley of the Strange plunges you into a world of bizarre creatures, delicious secrets and shocking twists, all served with the trademark Dashe Roberts blend of pulse-pounding action, humour, and unputdownable suspense.
S. J. Wills, author of Bite Risk (Simon & Schuster)
WHAT a twisty, clifferhangery book... It made me go "Whaaaaaaaaaat?!?" over and over. Hilarious mystery sci-fi with high levels of cool.
Rashmi Sirdeshpande, author of Good News (Hachette)
Geektastic, funny, and mysterious with wonderful characters and a cracking ending. STICKY PINES is The X-Files meets Stranger Things for young readers – just fab.
Alastair Chisholm, author of Orion Lost (Nosy Crow)
The Valley of the Strange is a weird, wacky, wonderful paranormal adventure driven by brilliant characters and wild imagination... The STICKY PINES series is simply essential for year 6 libraries.
James Hadell, author of the Tales of Truth and Treasure series (Elmira Press)
Teachers, librarians and children
STICKY PINES is fast becoming one of my favourite series of middle grade books, and as someone who has never been a fan of science fiction, that really is saying something. Just like the first two books in the series, The Valley of the Strange is a real page turner, with action-packed adventure, relatable lead characters and chuckle-worthy dialogue... It's an absolutely bonkers mixture, but with enough intrigue and fun to make this a firm favourite for all young readers. An ideal series of books to get any Upper Key Stage 2 reader wanting to read more.
A quirky, enjoyable concoction with paranormal activity and plenty of humour, The Valley of the Strange is sure to appeal to young readers, reluctant and otherwise.
The Valley of the Strange had me turning pages frantically into the night.
Matt R, teacher – review submitted via NetGalley
Funny and weird sci-fi that moves at pace and has twists aplenty. Another brilliant episode in the series.
Helen J, teacher – review submitted via NetGalley
Shop Local
🛒 Hey readers! These are tough times for the indie booksellers who bring joy to our communities and pay actual taxes! Many smaller booksellers ship so please show support by ordering my books from them online. I've included some of my favourites for you here!
Support this book by rating and reviewing online!
🖋️ These days, online recommendations are more important than ever in connecting young readers with books. If you read and loved The Valley of the Strange, please spread the word about STICKY PINES by leaving a friendly rating and note on Amazon, Waterstones or Apple Books. I read every review and am truly grateful for your support!