People of the world, prepare to learn the truth!
When UFO-obsessed Lucy Sladan sneaks out to investigate unexplained disappearances in her hometown, she finds more than she bargained for: a huge hairy creature, a well-dressed newcomer named Milo Fisher, and a deep-rooted secret…
There's mystery, weirdness and laughs aplenty in Sticky Pines: The Bigwoof Conspiracy, the first in a fantastic new sci-fi series for middle grade readers!
Published in the UK by Nosy Crow
The most entertaining book I've read this year
Exceptionally enjoyable
Jennifer Killick, author of Crater Lake and Dread Wood

Gripping, mysterious, hilarious: STICKY PINES is a bedtime destroyer
Louie Stowell, author of Loki: A Bad God's Guide to Being Good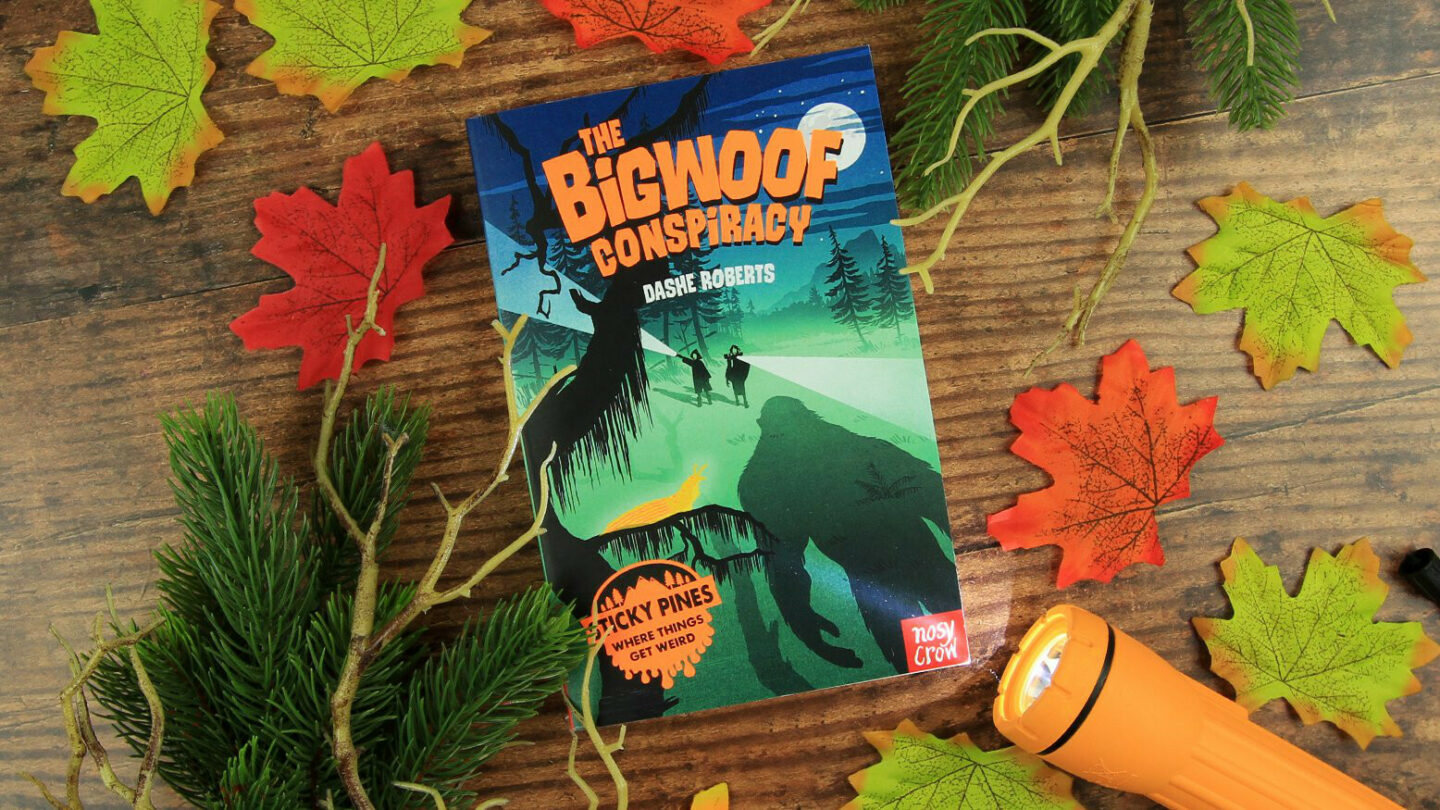 📻 Sticky Radio
'Hands off KGB!' Check out this imaginary soundtrack for The Bigwoof Conspiracy, curated by Dashe.
Play on Spotify
🎬 Reading Rocks Kids' Review with Michael Rosen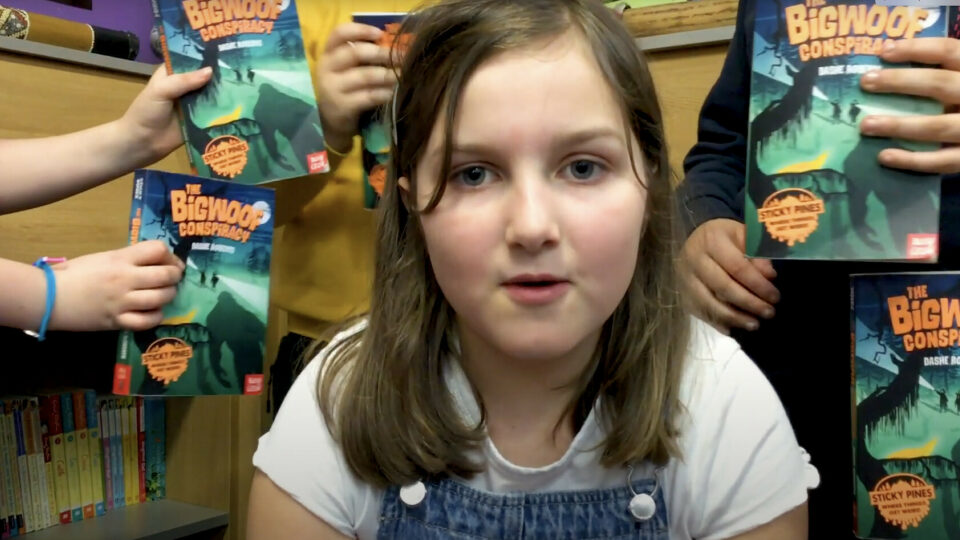 🔦 Konnie Huq reads chapter one of STICKY PINES: The Bigwoof Conspiracy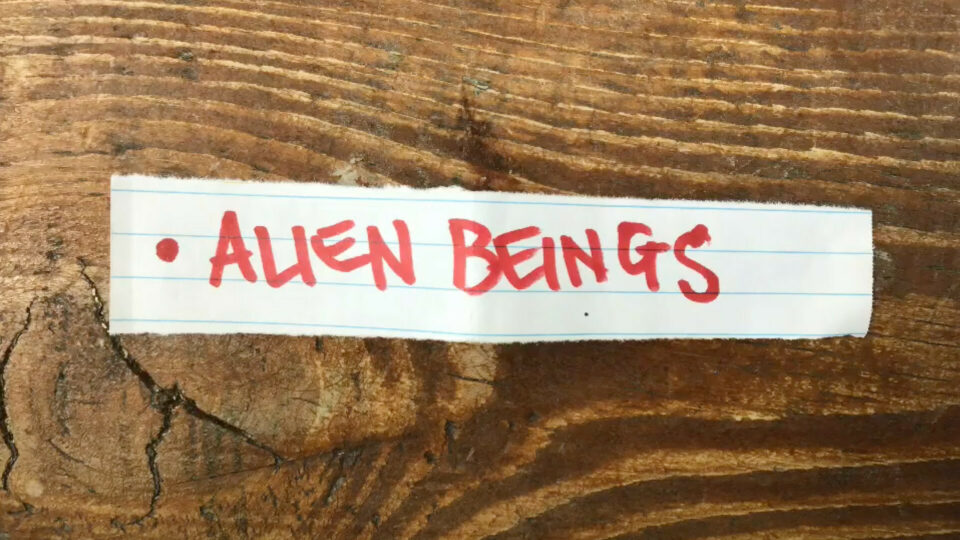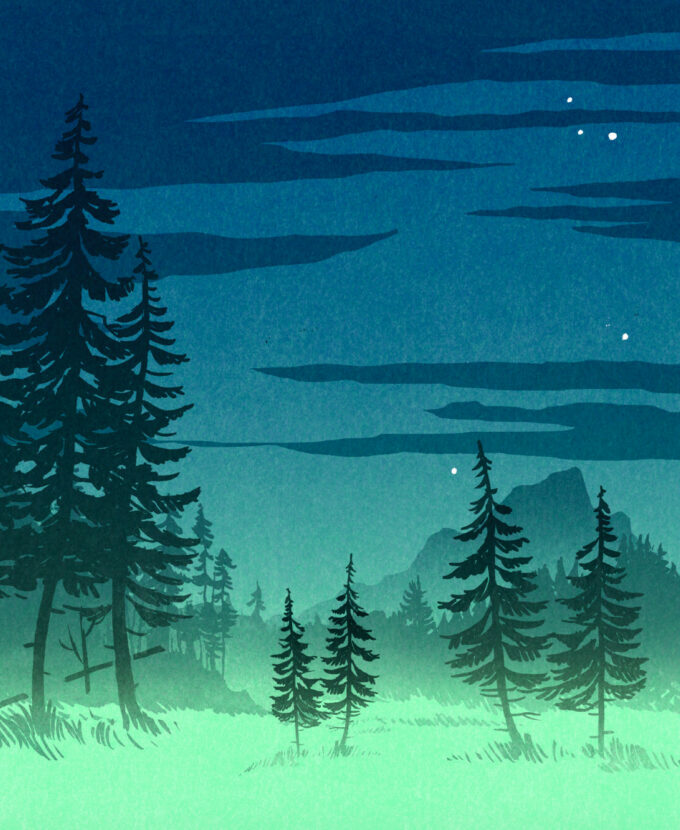 Praise
Press and blogs
Book of Week: an hilarious, exciting sci-fi series with mass appeal
The South Wales Evening Post
Weird and wonderful and very more-ish, I had to read this in a sitting… Dashe Roberts cleverly combines paranormal phenomena, conspiracy theories and mysterious creatures into a breathtaking, genuinely funny caper which deserves to be cult reading for 9+ readers
Armadillo Children's Book Magazine
Conspiracy theories, sticky trees, shapeshifting and other supernatural thrills fill this pacy action adventure. Written with wit and humour, Roberts has created a fun new series reminiscent of The X-Files but pitched perfectly for 9 to 12 year-olds
Debut of the month. Thrills, spills and suspenseful chills chime in this first fabulously zany instalment of the STICKY PINES series… a monstrously amusing mash-up of The Twilight Zone and Scooby Doo – think Louis Sachar's Fuzzy Mud with added farcical fun
Lovereading4Kids, Joanne Owen
This middle grade series is destined for greatness… Just stop what you're doing, whether you're hunting sasquatches or trying to take photos of ghosts, and get down to your local bookshop for a copy of this. It's just so darned good!
Phil and Charlotte May, Read It Daddy blog
Dashe Roberts has created a brilliantly fun world glinting with enough darkness and danger to keep you hooked and with AWESOME TWISTS and reveals… Uncovering the supernatural underneath sleepy rural America but for kids is GENIUS, and will be incredibly fun for adults to read aloud or along with children
Lily Fae, Lily and the Fae blog
What this book mostly resembles is a smart and quirky B movie: a bonkers cult classic that's a joy to watch while stuffing a bucket of popcorn into your face. The sort of movie that leaves you grinning up at the screen as the credits roll and gagging to watch all over again… It's a proper caper: a "forget-your-worries-because-fun-is-happening-whether-you-like-it-or-not" kind of book, and I heart that. We don't give out stars but hey, in this case, let's say tens, tens, tens across the board
Snort! The Home of Funny Children's Books – review by Martin Howard, author of the Alfie Fleet series

Authors
If you love The X-Files, Eerie Indiana, Teen Wolf and Twin Peaks, then you and me have a lot in common and I predict you will love STICKY PINES
Sophie Green, author of Potkin and Stubbs (Piccadilly Press)
I loved this story about creepy occurences in a small town filled with secrets. Funny and exciting with excellent characters, this is an exceptionally enjoyable book
Jennifer Killick, author of Dread Wood (Farshore) and Crater Lake (Firefly Press)
Two quirky main characters, an out-of-this-world mystery and fast-paced, page-turning action. The fresh, fun voice and rollercoaster of a plot is sure to hook younger readers, and have them begging for the next adventure
Sara Grant, author of the Chasing Danger series (Scholastic)
I so enjoyed this book! Not only is it a gripping plot with appealing characters, it brings the whole concept of 'the truth is out there' bang up to date with such things as photoshopped photos. How do we know what the truth really is? Clever, well written and entertaining
Kirsty Applebaum, author of The Middler and The Life and Time of Lonny Quicke (Nosy Crow)
I absolutely loved STICKY PINES. It is brilliant and exciting with just the right amount of creep! I can't recommend it enough
Maria Kuzniar, author of The Ship of Shadows (Puffin)
Extraterrestrial activity, forests, purple hair and banana slugs! What's not to love?
Holly Rivers, author of Demelza and the Spectre Detectors (Chicken House Books)
Brilliantly atmospheric! The creepy stillness, the steam rising from Black Hole Lake, the slime-slicked paths and banana slugs, all make for a gripping, unsettling race to the revelation at the end. Lucy and Milo are an epic team
Nizrana Farook, author of The Girl Who Stole an Elephant (Nosy Crow)
Fab! I loved the spooky sci-fi elements and the sense of mystery kept me hooked
Sophie Kirtley, author of The Wild Way Home (Bloomsbury)
Dashe Roberts is my gem of the year – if only she had been writing when I was a kid! This book is an absolute rollercoaster of banana slugs, slime, UFOs, yetis and the very best (and hilariously unlikely!) mystery-solving twosome… Add in a superbly plotted mystery and I couldn't turn the pages fast-enough
Lu Fraser, author of The Littlest Yak (Simon & Schuster)
Teachers, Librarians and Children
This is a great read – strong plot line, clever ideas, well written, and absorbing... Young readers will be gripped by the mysteries of Sticky Pines
The School Librarian magazine
This has got to be one of the best children's adventure stories I have read in a long, long time… It's a really exciting read that I am certain readers of all ages will enjoy
There was a lovely moment in class Storytime today reading aloud STICKY PINES by Dashe Roberts… Nearing the end of an early chapter I heard one of the boys whisper, "He's gonna stop, I can feel it." Two lines later, after the cliffhanger chapter ending, I shut the book. "KNEW IT!" he said! "DON'T STOP!"
Five stars! I genuinely feel EXHAUSTED today because I couldn't bear to put this book down. It was a fast-paced, mysterious tale which left me intrigued… I am eagerly awaiting the release of the next STICKY PINES book!
It's a hilarious book, so fun to read. The only thing is you get to the end and you want more!
Rumena Aktar, school librarian
STICKY PINES: The Bigwoof Conspiracy is an amazing story… Mystery, action, comedy, horror – this book has it all. If you like The X-Files, Twin Peaks, or stories about children getting the better of adults who don't believe them, this is the book for you
Lucas Maxwell, school librarian
This book made me feel excited – I just wanted to keep on reading
I would read this book a million times if I was allowed
Rothley Primary Book Club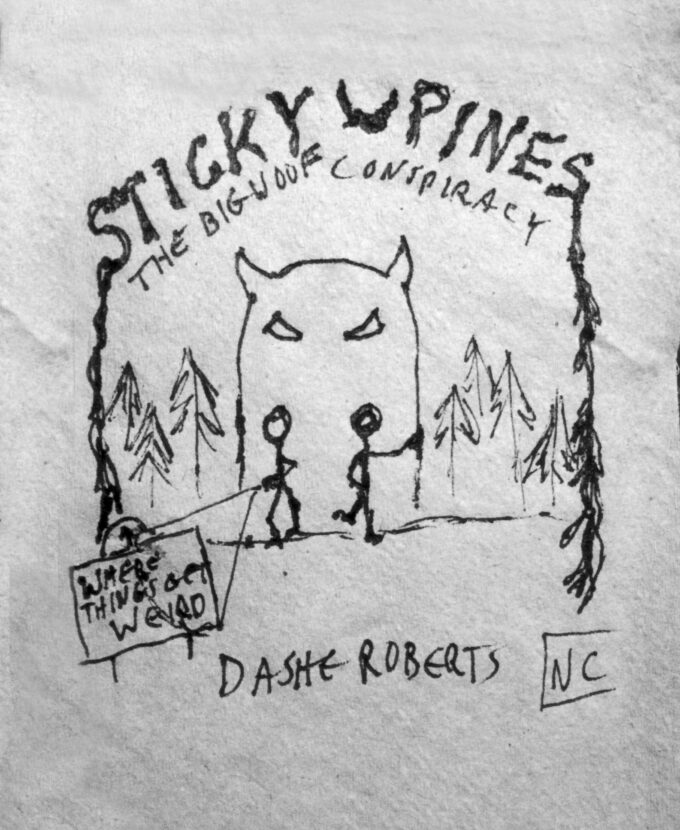 Activities
Can you solve the mysteries of STICKY PINES?
Download this puzzle pack to see if YOU can solve the mystery of The Bigwoof Conspiracy!
The Bigwoof Conspiracy: activities for kids
Put yourself in the story and create your own adventure with these active class resources.
Shop Local
🛒 Hey readers! These are tough times for the indie booksellers who bring joy to our communities and pay actual taxes! Many smaller booksellers ship so please show support by ordering my books from them online. I've included some of my favourites for you here!
Have a listen
🎧 You can listen to the first chapter of STICKY PINES: The Bigwoof Conspiracy here, and purchase the audio book from these online retailers. Narrated by the magnificent Patricia Rodriguez!
Support this book by rating and reviewing online!
🖋️ These days, online recommendations are more important than ever in connecting young readers with books. If you read and loved The Bigwoof Conspiracy, please spread the word about STICKY PINES by leaving a friendly rating and note on Amazon, Waterstones or Apple Books. I read every review and am truly grateful for your support!